My Dermaroller Diary
Removing my stretch mark scars with the Scientia Dermaroller was so easy!
I'm SO excited! My Dermaroller has arrived and my progress diary begins today. I've been asked to track my first month's progress by derma-rollers.com – the people behind the Scientia Derma Roller. I will be writing down each week how I'm getting on.
I am a mother of 2 and have had stretch marks on my stomach for nearly 20 years, since my first pregnancy. Anyone else with stretch marks will know exactly how they can make you feel self conscious, and I am hoping that this product will make a difference. Going swimming, sunbathing, or just wearing less clothes in the summer months can be a bit of a trauma. I've always tried to ignore it, because I didn't realise I could fix it… I just put up with it. But through using the Scientia dermaroller for a few weeks, I hope to put things right!
Watch My Dermaroller Video Diary or Read it below: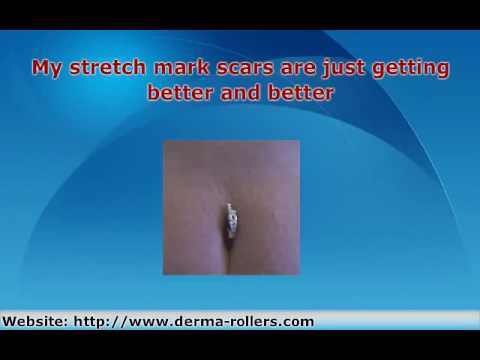 Dermaroller Diary Day 1!
The package arrived this morning; so far so good. I've read the Dermaroller instructions, looked at the website again and I've promised myself to begin tonight after work. I must admit, the tiny needles on the roller don't look very inviting, but a few comments I read on forums, etc, seemed to show that it isn't so bad and gives more of a tickling sensation.
One of the recommendations they made was to take a before picture, so that I can see the difference to my stretch marks over time. I suppose, just like weightloss, it's easy to miss gradual change because it's right under your nose! I have lived with quite deep stretch marks for a long time, as you can you see from my first picture, so ANY change will be welcomed, however gradual!
My Stretch Mark Before Picture
As you can see, the stretch marks on my stomach are quite deep:
The good news is that having tried my dermaroller, it wasn't painful like I feared. I wouldn't want to really press hard without numbing cream, but I can use it without discomfort. The 1mm roller is fine, and the 1.5mm isn't any different – although it looks a little more aggressive. The 1.5mm is better for deep stretch marks, but the 1mm is supposed to be more versatile.
After treatment with my dermaroller, my stomach and hips went a little bit red – just like after a hot bath, or mild sun burn. It wasn't exactly sore to the touch, but it was a little more sensitive – but this faded after a couple of hours. Overall, a good first day… Let's see how it works in the day's to follow.
Dermaroller Diary – End of Week One
I have been quite amazed how my skin is feeling firmer and more even after such a few treatments! Looking at my before picture, I can even see that some of my deeper stretch marks are starting to close up. They are still there of course, but they don't feel the same or look the same when I look at them more closely.
I have got the routine sorted, and it isn't hard to fit my derma rolling into my daily regime. I use the dermaroller straight after having a bath, or if I haven't bathed yet, I just use an antibacterial wipe to clean my skin first, before treatment. Then all I have to do is use the vitamin rich moisturising cream afterwards that I was sent with the dermaroller. The Vitamin C, Vitamin E, Aloe Vera and Evening Primrose Oil ingredients are all supposed to support the development of collagen in my skin and to support the healing process. I usually wait around ten minutes after treatment before I apply it and that seems to let my skin settle. I also use an antibacterial cream before to keep my skin clean.
Results at the End of Week Two
Wow! I'm amazed with the results so far. I've had to take more pictures of myself to see if I am imagining things. I was looking at myself quite closely in the mirror before my nightly dermaroller session halfway through this week. Things are definitely looking better already. Having compared the two photos, I can't believe my eyes! it certainly looks like my stretch marks are improving. My skin feels firmer and some of the shallower marks have definitely gone! At this rate I won't need to do a full month's diary !
End of Week Three
This is amazing! My stretch mark scars are just getting better and better! I've started pressing the dermaroller a little more firmly now that I am used to the sensation. I must admit that I've been a bit naughty this week and missed out two sessions. I think that because I've seen such an improvement so quickly, I've become a bit complacent that it's working. I'm going to make an effort to keep it going.
End of Week Four
I have been telling everyone I know about the success I have had with my dermaroller. I have told several of my friends and family members about this amazing little gadget! Some of the remaining scars are still visible from certain angles, but I am so thrilled with the level of success I've had. I now know that although my skin hasn't entirely repaired, it certainly will if I continue with my treatment. I am going to send in my pictures and testimonial, but rest assured I will carry on the great work.
Overall, to conclude my dermaroller diary I want to wholeheartedly and sincerely recommend the Scientia Derma Roller to anyone who wants to deal with their stretch marks or scars. I have read forum posts that said stretch marks cannot be fixed without surgery, but they are absolutely WRONG! Don't allow limiting beliefs to hold you back. Stretch mark removal IS possible – you just have to find the right product… and in this case, the Scientia Derma Roller IS the right product!
Dermaroller Testimonial Update – Latest "After" Photo!
Here is my latest update picture. I was absolutely right about continuing to use my roller. I read on the Derma Roller FAQ page that your skin renews itself every 40 days, so continuing to stimulate the healing process with my Scientia Derma Roller has made all the difference!
All I can say is thank you! My use of the dermaroller has worked wonders for my stretch marks but not only that, it's boosted my confidence to get my bikini out! Caribbean and cocktails here we come!
One thing I neglected to mention in my 4 week diary was that I was also using the dermaroller on my frown lines and crows feet around my eyes, and the fine lines on my face. Foolishly, I wasn't taking pictures of those, but they have filled out and when you run your finger across where they were you can feel that the skin has changed for the better. So I bought a 0.5mm dermaroller for an anti aging treatment which I use about once or twice per week. I find that this level of treatment best suits my lifestyle.
I have continued to use the Vitamin rich treatment cream, as it is a great moisturiser and it contains all the nutrients needed to support the use of my dermaroller.
Thank you so much! I will definitely be back when I need to buy my replacement dermaroller.
A big thank you from Derma-Rollers.com
Thank you to all of our customers who have taken the time to send in their experiences of using the Scientia Derma Roller. We truly value any input from our customers. We are so confident that the Scientia Derma Roller will give you great results that we even offer a money-back guarantee! Watch the guarantee video to see how you have nothing to lose – just great results to gain!
Suitable for stretch mark removal, scar removal, hair loss treatment, anti aging, cellulite treatment, and acne scar treatment and many other cosmetic issues. If in doubt, please contact us for free advice from a friendly expert!
Sale Now On: Sale Prices only Guaranteed until Midnight (Pacific Time) in .