Introducing the Scientia Derma Stamp – a Cosmetic Breakthrough!
Can you imagine being able to remove your scars, wrinkles and stretch marks with just one simple device?
Adjustable Needle Length (0.25mm to 2.7mm) means that only 1 Stamp is required for multiple conditions!
Removal of:
Scars – from acne, accidents, surgery, burns, etc.
Wrinkles – fine lines to deep creases.
Stretch Marks – from minor to major.
And more!
Imagine a painless, adjustable micro needle system – where you can get the same fantastic results you get from a Scientia Derma Roller, but with the ability to adjust the needle length to suit different areas of the body. This next-generation device also has a revolutionary new needle profile which minimises the sensation of micro needling and yet triggers the greatest level of collagen production.
Well imagine no longer, because the Scientia Derma Stamp is here!
QUESTION? What do scars, wrinkles, stretch marks and uneven skin have in common?
ANSWER: A lack of collagen! If your body would produce more collagen then you wouldn't get them. Using a Scientia Derma Stamp offers nature a helping hand by encouraging collagen production in the skin, which helps prevent or reverse their formation.
Even the stars of Hollywood are using cosmetic microneedling to give their skin a smooth and youthful glow.  Probably the most famous celebrities reported to have treatment are Angelina Jolie and Brad Pitt.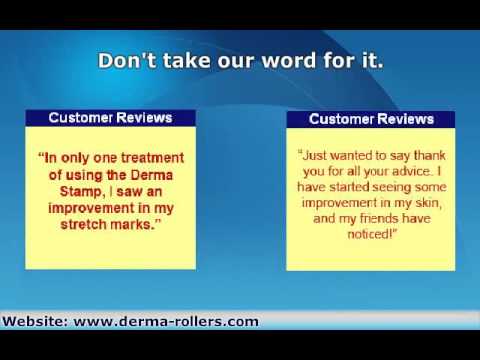 So how is a Scientia Derma Stamp Different From a Scientia Derma Roller?
The Scientia Derma Stamp has a dial which allows you to select a needle length anywhere from 0.25 mm all the way up to 2.7 mm. This is the most universal micro needle system in existence. You can treat anything from the most mild of wrinkles, through to the deepest stretch marks or acne scars.  But do not be tempted to use above 1.5mm for home treatment.  This is not necessary for great results, and only medical professionals should undertake treatment at this level.  Improper home use above 1.5mm carries the risk of nerve damage.  Use below 1.5mm and following the instructions is perfectly safe and gives great results – or your money back (please see our guarantee video).
The Scientia Derma Stamp has 140 microneedles so each application of the device covers a substantial area (the largest of this sort of device), with precisely the right depth of needle. The unit is also reusable, unlike the disposable devices on the market.  Perfect for precision treatment of any given skin condition listed below.
So what can the Scientia Derma Stamp be used for?
Increasing the absorption of any of your favourite skin creams.
Anti-ageing effects, wrinkle reduction, the reduction of sebum secretion, reducing large pores, the reduction of blackheads and general improved circulation in the skin and scalp.
Excellent for acne scars such as ice pick scars or boxcar scars.
Can also treat other scars such as those from cosmetic surgery (treats scars from facelifts, breast augmentation, breast reduction, breast reconstruction, liposuction, orthopaedic surgery, even burn scars etc).
Treats at long more surgery scars, such as Caesarean section, appendectomy, etc.
Greatly reduces stretch marks, and can firm skin.
Remove scars from hair transplants (helpful for treating scars from scalp tissue grafting, etc).
Reduction of cellulite.
This product is nothing short of amazing, and adds a new level of diversity to an already effective system.
Microneedling Before and After Pictures
Take a look at the before and after pictures below to see the amazing results achieved through micro needling.
Restore Hair Loss – Before and After
Scar Removal – Before and After
Stretch Mark Removal – Before and After
Acne Scar Removal – Before and After
Anti-Aging and Anti-Wrinkle Treatment Before and After
Burn Scar Reduction – Before and After

What makes the Scientia Derma Stamp different?
Because the stamp is applied directly to the skin, the needles penetrate the pores of the skin head-on and are not rotated into place like they are with a roller. This minimises the sensation of microneedling. Equally with the new three facet microneedle profile, the needles themselves are designed to be pain free, yet are maximum effective.
Usually, you require several different rollers with different needle length to be able to treat a wide range of conditions. However, with the Scientia Derma Stamp one device covers all! Simply twist the dial on the end of the device to adjust the needle length.
0.25 mm – Improved penetration of skin care products active ingredients.
0.5 mm – Face and skin regeneration, removal of sun damage, anti-ageing, reduction of wrinkles.
1.2 mm – Cellulite reduction, stretch marks reduction, wrinkles reduction, skin regeneration, skin pigmentation reduction.
1.5 mm – Scar removal (burn, surgery, acne, etc.), open pores reduction.
2.0 mm – Burn contracture.  Caution, needle lengths above 1.5mm are considered to be for professional use only.
How to use the Scientia Derma Stamp / Instructions for use.
Before using your Scientia Dermal Stamp, please read our disclaimer.
Wash the area to be treated to ensure the skin is clean.
The procedure will be most successful if the skin is pulled taut with your finger while using the Scientia Derma Stamp with your other hand.
The Scientia Derma Stamp is equipped with a length adjustment dial which adjusts the length of the needle (0.25mm – 2.7mm). Caution, needle lengths above 1.5mm are considered to be for professional use only. Use soft and light pressure; it is unnecessary to press excessively hard.
When applying the stamp to the skin, the surface of the stamp is slightly curved to allow a gentle rocking motion.
For increasing the absorption of creams / lotions, alleviating wrinkles, skin regeneration, anti-aging effects, mild acne scar treatment, etc, conduct the basic procedure by applying the stamp to the skin in overlapping sections where the skin is stamped twice in each area.  For conditions requiring concentrated treatment such as deep acne scars or other deep scars, zones with wide pores, or wrinkles, etc. repeat the overlap 3 times.
Even sensitive areas with a concentrated presence of nerves can be safely targeted by using the needle length adjustment feature to use the appropriate length.
Prior to the procedure, please ensure that the device has been sterilised between uses, and never share your Scientia Derma Stamp with anyone else.
Numbing cream containing the local anaesthetic Lidocaine can be useful for longer needle length treatment.  Please consult your Pharmacist or Doctor.
Please visit our Derma Roller Instructions page and our Derma Roller FAQ page to get other hints and tips for getting the most out of microneedling.
The Scientia Derma Stamp should last approximately 3 months if used once per week.
Where can I buy a Scientia Derma Stamp?
This amazing product is available worldwide with free delivery through the shopping cart link below under our standard Terms and Conditions:
Derma Stamp Special Offers:
Sale Prices only Guaranteed until Midnight (Pacific Time) in .
– Or –
Get Just The Derma Stamp (No Extras) with Tracked Shipping!
RRP £114.95 Price Today £94.95 with Tracked and Insured Shipping (Essential for Africa, Asia, Middle East  or South America):

– Or Just the Derma Stamp (No Extras) WITHOUT Tracked Shipping-
RRP £110 Price Today £89.95 (Without Tracked Shipping – Your Item is not Insured or Tracked but is shipped 1st Class Royal Mail):

(Royal Mail Official Proof of Sending Certificate is provided in the unlikely event that your goods do not arrive.  By clicking the button above, you agree to these terms.  Please see our terms and conditions page for more information).
Scientia Derma Stamp Reviews
Visit our Derma Roller Reviews page to read the reviews and feedback of customers who have used microneedling to treat various skin conditions – from acne scars to stretch marks.  If you have a review specifically about the new Scientia Dermastamp, please write your comment below.  We would love to hear your Derma Stamp Review: